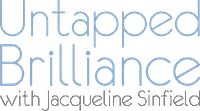 Untapped Brilliance is run by Jacqueline Sinfield, an ADHD Coach.
The phrase Untapped Brilliance was inspired by a sentence she heard again and again from new clients. Some people would whisper it, others almost shout with frustration, 'I have so much potential, I just can't reach it.'
This inspired her to write the book 'Untapped Brilliance: How to Reach Your Full Potential as an Adult with ADHD.' It's a step by step guide to help manage your ADHD symptoms naturally.