Ayuwanna by Barberyn – Journey to Healing
Sunday 27TH OF MARCH
10.00am-11:00am:
Discover the healing power of medicinal forests and preservation of Ayurveda Medicinal Plants by Prof. Piyal Marasinghe.
Learn about the fascinating variety of indigenous plants and its unique preservation methods.
11.15am-11:45am:
Ayurveda cleanse to detox, refresh and renew your body by Ayurveda Practitioners from Barberyn.
Discover the cleansing methods of Ayurveda that target the root cause of disease and bring your body back to balance and ease.
11.15am-11:45am:
Make your own medicinal pouch (beheth potiniya). Kiddies session by Anusha Samarasinghe.
A creative session for children as they build their own medicinal pouch using Ayurvedic herbs.
12.00pm-12:30pm:
Debunking myths about Ayurveda by Ayurveda Specialists from Barberyn.
An enlightening panel discussion addressing the most common myths to spread knowledge and awareness about the science of Ayurveda.
2.00 pm-2:30 pm:
Maintaining an Ayurvedic routine for a healthy life (Dinacharya) by Ayurveda Practitioner from Barberyn.
Learn how to maintain an Ayurvedic lifestyle, balance the doshas and achieve optimal health.
3.00pm-4.00pm:
You are the sky. Everything else, it's just the weather-Heart Centered Meditation by Shobana Cooke.
A Meditation session on finding love, compassion and peace within, which is relevant to current times.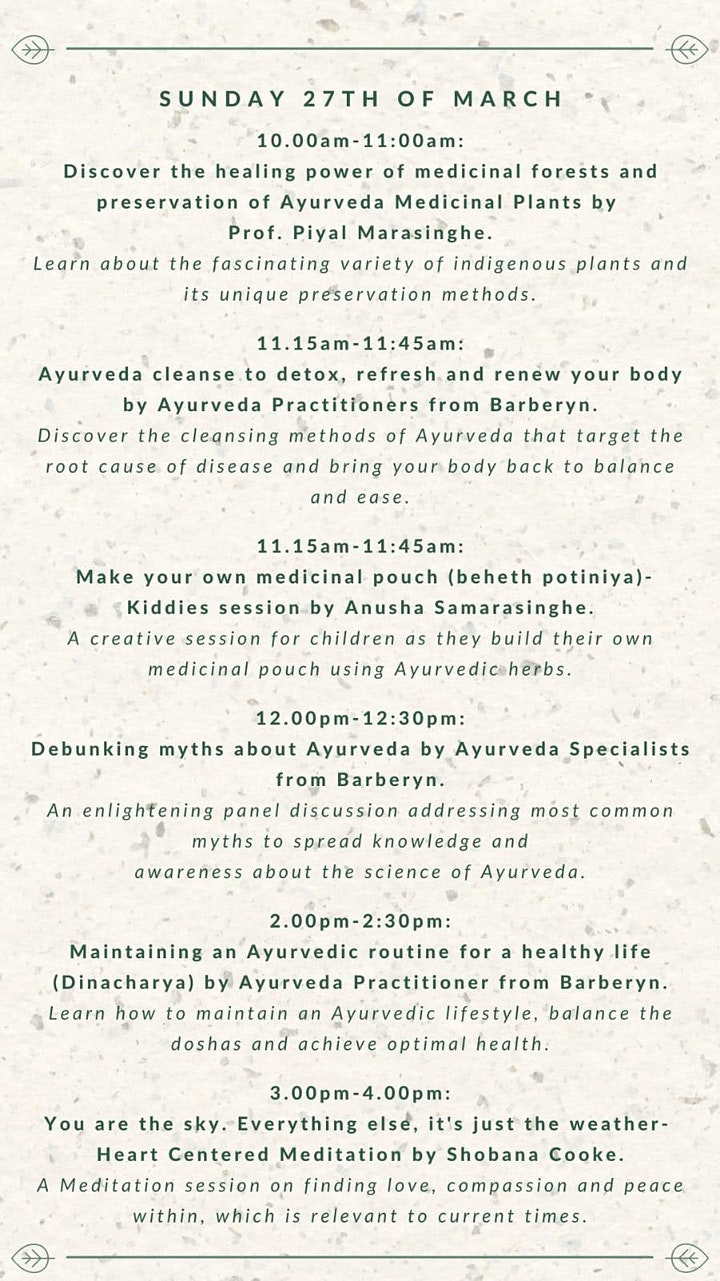 March 27 @ 10:00
Colombo, Prana Lounge